Top 5 tips on choosing a small mobility scooter
Many people find that purchasing a small mobility scooter really helps them enjoy their days out, being able to travel further without running out of energy is a real plus point.

However, how do you choose the right mobility scooter for your needs? Read on to find our top 5 tips on choosing a small mobility scooter.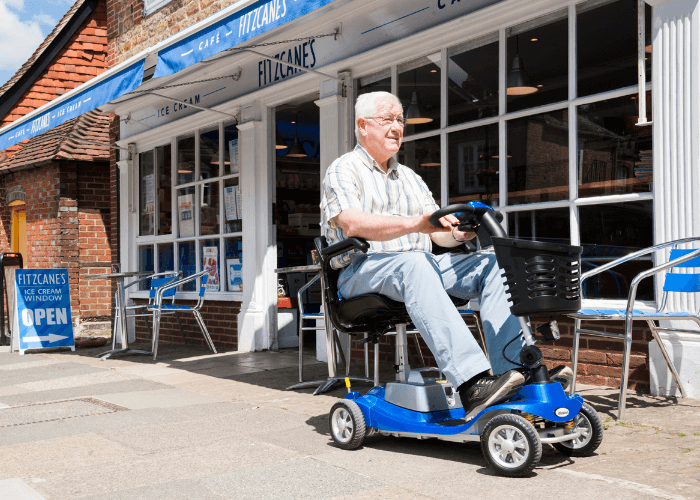 Whilst I do not claim that this is an exhaustive list these are some of the questions which are worth considering.
Tip 1: Always try before you buy
The first thing I would recommend is ALWAYS TRY BEFORE YOU BUY. Whilst many scooters look similar, in fact each scooter offers the user a very different feel whilst using. Always go to a local showroom to find the scooter you feel most safe and comfortable driving on.
Tip 2: Can you lift the scooter?
The second thing to be aware of is the weight of the scooter. Most users need to dismantle and lift the scooter into the car for storage and transport. If the scooter is too heavy to lift easily this will severely limit the usability of the scooter. Some scooters, like the illusion, are manufactured from aluminium which is 50% lighter in weight than the standard steel version.
Tip 3: Consider the size of the scooter
The third point to consider is the size of the scooter. Whilst most "boot" scooters will fit in the majority of standard car boots it is advisable to check this by trying the model you want to purchase in the boot of the car you most commonly use.
Browse our range of small mobility scooters, all of which are available to purchase from your local authorised One Rehab stockist.
Tip 4: Check the comfort of the scooter
Comfort is also another very important factor, some scooters have luxury seats which give the user a very comfortable drive, whilst others have really nothing more than a thin piece of foam over a hard uncomfortable wooden base. Most modern scooters now offer full suspension which provides a vastly superior ride to the old non-suspension version. Also having pneumatic (air-filled) tyres, rather than solid (foam-filled) ones, will noticeability improve the ride. (But remember solid tyres can't get punctures!)
The actual sitting and leg position is also incredibly important, scooters like the Vogue have a low level footplate, allowing those with longer legs to stretch out and this prevents the user from feeling cramped.
Tip 5: Is the range suitable for you?
The range the scooter will travel is also important. With standard AGM batteries which are commonly used on most boot scooters you can expect to achieve a range of 6+ miles for 12ah batteries. This is perfect for use around town and on days out.
However if you are planning on doing more miles, you can get the larger 22ah capacity batteries, which will do approximately double the range.
Click on the gallery pictures below for further information on our small boot scooters.
And Finally...
Please also remember to purchase from a reputable local dealer who can offer the correct level of support and training, not just prior to the purchase of the scooter but also after the sale. A good dealer will be happy to offer yearly service for your mobility scooter and many will even offer to part-exchange on an existing scooter if you are looking to upgrade. If you are looking for a reliable mobility dealer near you then please email info@onerehab.co.uk or fill out the contact us form, including what product you are interested in and where you live, and we will be very glad to suggest a friendly, helpful mobility shop near you.